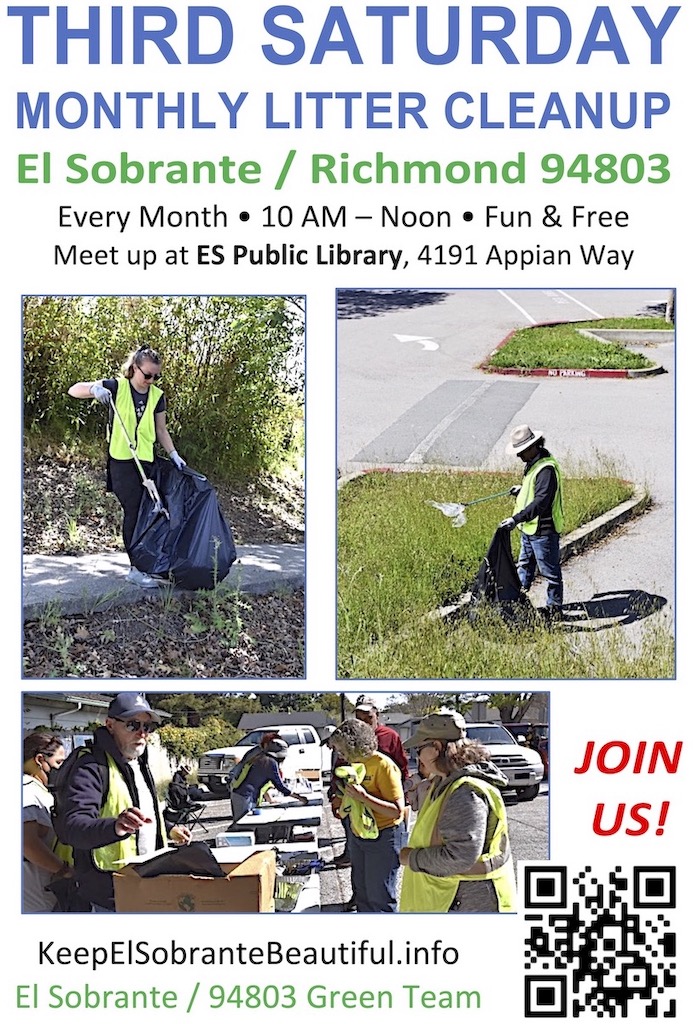 See you Sat., Nov. 18!
We need lots of volunteers for our cleanup events! Our next monthly Third Saturday Cleanup litter cleanup is Nov. 18, 10 AM at the ES Public Library, 4191 Appian Way.
The El Sobrante MAC Cleanup and Beautification Subcommittee held a meeting on Tuesday, Oct. 17, via Zoom or at the library, where we got an update about the SP Dam Rd. planter pots and the Artist Tree cannabis store / art gallery. We still don't have a resolution to the lack of trash cans. CalTrans "El Sobrante Heroes" cleanup coming up, date TBA. Meanwhile, Ali posted some photos and video from our team at the 2023 El Sobrante Stroll and Parade. Do you have any photos to share?
---
What is Green Team 94803? We are your neighbors and volunteers who want to Keep El Sobrante Clean and Beautiful. We meet on the Third Saturday every month at 10 AM at El Sobrante Public Library, 4191 Appian Way (email us about joining in) and go out to pick up litter. Our events are all free and always fun. You'll do good and meet other great people, so come on down and be a part of the fun! This link takes you to a PDF of the postcard we made to promote our cleanups and educate people about how to get rid of stuff without dumping — can you help us distribute the message around town or sign up to help keep the momentum going? You can also join the clean up and beautification thread on NextDoor.
We have the info you need to get rid of stuff
Green Team 94803 provides this webpage with links and a calendar and has a working coalition with the SPAWNERS, C4GES, SOS! Richmond and other groups. Click here to get more involved, or just meet us at the El Sobrante Public Library any month. In March, we partnered with the Clean California campaign's statewide effort to get rid of litter and illegal dumping.You are also welcome to join the monthly virtual El Sobrante Municipal Advisory Council ESMAC Cleanup and Beautification Subcommittee Meetings to get updates on local, ongoing efforts and to brainstorm on how to handle the trash problem in our town. Special guest presentations TBA.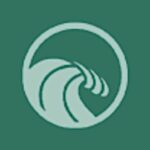 El Sobrante / Richmond 94803 has a number of other interesting groups. We encourage all our neighbors to become involved in the campaign to make our town a better place. If you do, you will connect with some of the nicest people you'll ever meet! The Green Team's Earth Day community cleanup was a big hit April 22 with well over 130 neighborhood volunteers. The library hosted an origami art installation, Earth Day book displays, landscape gardening, speakers, entertainment and other fun and educational activities!. Information en español Abril 22 Día de la Tierra! Green Team 94803 hosted our third California Coastal Cleanup Day Sept. 23, with SPAWNERS, the Library and SOS! Richmond. Aqui esta la information en Español.
---
Report a pile: 1-800-NO DUMPING (1-800-663-8674)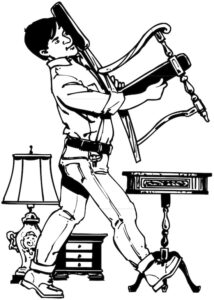 ---
Keep El Sobrante 94803
Clean and Beautiful
Dear El Sobrante and Richmond Neighbors,
We love the El Sobrante area, which includes parts of unincorporated Contra Costa County and parts of the City of Richmond. However, the growing litter and illegal dumping problems here defiles the natural beauty of our commujnity and impacts our quality of life. It's not only ugly – it's bad for the environment and wildlife, attracts vermin and spreads disease.
We've had enough! We deserve better.
It's up to all of us, our village, to do our part to Keep El Sobrante Clean and Beautiful. So please join us on National Cleanup Day and at our regular clean up events to launch an ongoing effort to clean and beautify our town.
– The El Sobrante Green Team
Email us for more information
More things to do
Businesses * Property Owners * Residents * Apartment Complexes * Schools * Places of Worship * Neighborhood Associations * Organizations * Anyone and Everyone can step up individually or form a team to do the following:
Pick up litter (masks, gloves, fast food containers, plastic, wrappers, cigarette butts, large items, etc.)
Clean up your property down to the streets and gutters, in your parking lots, on your block, or a trouble spot in your area.
Adopt a spot you can clean up on a regular basis
Every day is a new chance for us to make a difference! You can help us keep El Sobrante beautiful. Here are some more ideas:
Pull up weeds, plant some native, drought-resistant flowers to beautify
Refresh the paint on your property that's been an eyesore for a while
Clean up grafitti
Paint a mural (Warning: May need permits)
Collect trash along the creek
Third Saturday roadside cleanup
On the Third Saturday each month, we pick target locations and fan out in teams. Meet at El Sobrante library parking lot at 10 AM, return equipment at noon. Or, pick your own spot and schedule.10 AM – Noon. El Sobrante Public Library, 4191 Appian Way. See sidebar calendar for upcoming dates. More info here.
Take pride in knowing that our community cares about keeping El Sobrante beautiful. Together we will make a difference!
Caltrans Reporting Form
Use the Caltrans Customer Service online reporting form to notify Caltrans of blight or dumping on State Freeways and state roads. It features a map to report the location of your concern. To set the marker on the site of your concern within the California State Highway System, click anywhere on the map or drag it. Otherwise, simply call 916-654-2852.
– The El Sobrante Green Team
Scenes from Sept. 18, 2021 Cleanup
---